Description
Introduction
The SOM-IMX8MP is a System on Module (SoM) containing processor, memory, eMMC Flash, WIFI module, Ethernet PHY and supporting power circuitry. The SoM is based on NXP i.MX8M Plus series processors, and can be easily used by a designer in their own products and systems, help customers to bring their products into market quickly.
The electrical interface of SoM is via two 100-pin high density BTB connectors and two 30-pin high density BTB connectors, and the signal definition of two 100-pin connectors is compatible with CM4 of Raspberry, so it could be an high performance alternative of CM4 for some products embedded in CM4.
Features
Key features of the SoM are as follows:
NXP Quad core Cortex-A53 (ARM v8) 64-bit SoC @ 1.8GHz
25 TOP/s Neural Network performance available for user applications
ARM Cortex-M7 Core CPU operating up to 800 MHz
375 Mpixel/s HDR Image Sensor Processor ISP
Hifi4 Audio DSP, operating up to 800 MHz
Small Footprint 55mm × 40mm × 4.7mm module
4 × M2.5 mounting holes
265 (upto 1080p60 encode and decode), H.264 (up to 1080p60 encode and decode)
OpenGL ES 3.0 graphics, OpenCL 1.2
Options for 2GB, 4GB or 8GB LPDDR4-4000 SDRAM
Options for 8GB, 16GB, 32GB or 64GB eMMC Flash memory
Peak eMMC bandwidth 200MBytes/s
64Mb SPI Nor Flash
Option for certified radio module with:

2.4 GHz, 5.0 GHz IEEE 802.11 b/g/n/ac wireless
Bluetooth 5.1, BLE

2 x Gigabit Ethernet controller
One Gigabit Ethernet controller with PHY on-board supporting IEEE 1588
One Gigabit Ethernet controller supporting IEEE 1588, PHY is needed on baseboard
1 × PCIe 1-lane Host, Gen 3 ( 5Gbps )
2× USB 3.0 port ( highspeed )
66× GPIO supporting:
Up to 3× UART
Up to4 × I2C
Up to 2x SPI
1 x SDIO interface
2x CAN
1 x PCM
Up to 4 x PWM channels
1 x HDMI 2.0a ports (up to 1920 x 1080p60 supported)
1 x 4-lane MIPI DSI
1 x 4-lane LVDS (up to approximately 1366x768p60)
2 x 4-lane MIPI CSI-2
SPDIF input and output
Five external synchronous audio interface (SAI) modules
8-channel PDM microphoneinput
SPDIF input and output
1 x SDIO, eMMC 5.1
Single +5VPower supply
Application
Machine Vision and Robot Controllers
Industrial automation
Weighing Scales
Smart Toll Systems
Educational Consoles
Factory Automation
Industrial Computers, Gateways and HMIs
Machine Vision and Robot Controllers
Traffic Monitors and Flow Optimization
Vision Payment Systems
Medical facilities
Mechanical 
SoM dimension as below viewed from the Top.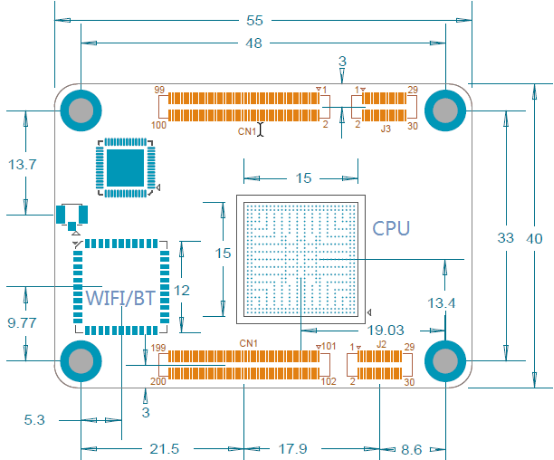 Components in blue are on Top;
Components in Orange are on Bottom;
The height of WIFI/BT module is 1.7mm;
The height of CPU is 1.5mm;
A cooling solution is needed to ensure CPU of SoM to maintain an operational temperature. The SoM's threaded standoffs can be used to mount a passive or active cooling solution.
Order Information
| | | | | | |
| --- | --- | --- | --- | --- | --- |
| Item Name | LPDDR4 | EMMC | WIFI/BT | Price@1k | Temp |
| SOM-IMX8MP-L216CW | 2GB | 16GB | Yes | USD69 | 0°C-70°C |
| SOM-IMX8MP-L216CW-I | 2GB | 16GB | Yes | USD79 | -45°C-85°C |