Description
SOM-AM335x-MM (model: mini8600b) core board
•TI AM3358 processor based on A RMCortex-A8, 1GHz main frequency
•On-board 512MByte DDR3 SDRAM, 512MByte NAND Flash
•Support for Linux 4.1, WinCE 7 and Android 4.0 (WinCE is not supported in the industrial version)
Front view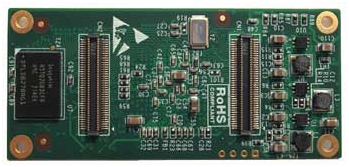 Back view
AM335x ARM Cortex-A8 from Texas Instruments (TI) offers the highest DMIPS at the same cost while providing 3D graphics acceleration and integration of key peripherals.TI AM3358 is composed of RM Cortex-A8 with 1GHz performance to meet various application needs. Optional 3D graphics accelerator has 20M/tri/s performance, supports LPDDR1/DDR2/DDR3 memory, PRU subsystem provides additional flexibility for devices, and optional support for EtherCAT and Profibus to meet industrial design needs.
SOM-AM335x-MM (Model: Mini8600B) is an ARM core board based on TI Cortex-A8 AM3358 processor, compatible with AM335x series processors.The compact core board with 512MByte DDR3 SDRAM and 512MByte NandFlash on board pulls out almost all the internal interfaces of AM335x processor through two 2*40pin board-to-board connectors, making it easier for customers to design product function boards or interface boards more quickly.Mainly for portable navigation system, digital video set-top box, portable education/game equipment, industrial automation, building automation, human-machine interface, teaching/medical equipment and other fields.
InBeit extends SBC8600B single board based on SOM-AM335x-MM (Part NO: Mini8600B) core board. The soleplate integrates 6 serial ports (one of which isolates RS485 interface), one of which isolates CAN2.0 interface, two Gigabit Ethernet ports, two USB Host and one USB OTG, LCD touch screen, TF card and so on.Support Linux 4.1, WinCE 7 and Android 4.0 operating systems.Open source data, including user manuals, PDF schematic diagrams, external interface drivers, BSP source packages, development tools, etc., provide developers with a complete software development environment, comprehensive technical support, help customers reduce product development cycle, and achieve rapid product listing.
Hardware features
---
CPU Unit:
• 1GHz ARMCortex-A8 32-Bit RISC Microprocessor
• NEON SIMD Coprocessor
• 32KB/32KB of L1 Instruction/Data Cachewith Single-Error Detection (parity)
• 256KB of L2 Cache with Error CorrectingCode (ECC)
• SGX530 Graphics Engine
• Programmable Real-Time Unit Subsystem
Memory:
• 512MByte NAND Flash
• 2*256MB DDR3 SDRAM
Board-to-board connectors and lead-out interface signals:
• Two 0.4mm spacing 2*40-pin needles
• TFT LCD signal (supports 24-bpp parallel RGB interface LCD)
• 2-way USB2.0 High-Speed OTG signal
• 6-way UART signal
• 1 SPI signal
• 2-way 10/100/1000Mb/s Ethernet MAC (EMAC), with Management Data Input/Output Module (MDIO)
• 1 McASP signal
• 8-way 12bit ADC interface
• 3-way IIC bus signal
• 2-way 4-way SDMMC signal
• GPMC signal
Electrical parameters:
• Operating temperature: 0 70 C (commercial version)
-40 C~85 C (industrial version)
• Ambient temperature: 20%~90%, non-condensation
• Machine size: 60mm x 27mm
• Input voltage: 3.3V
Structural Diagram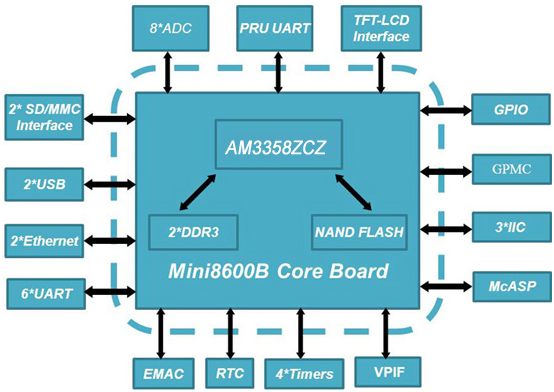 Mechanical dimension drawing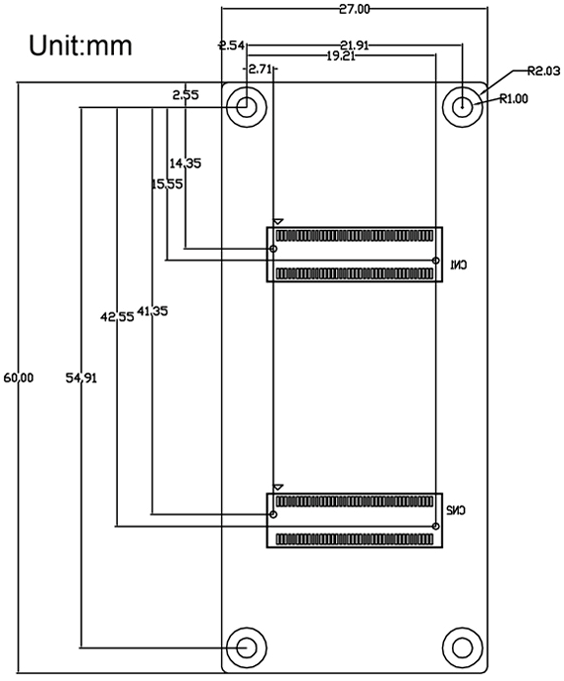 Provide customization services: Our company can provide program customization and product customization services, add and modify product functions according to the application needs of customers, and ensure its stable and reliable performance.Custom service contact number: 0755-33190846/33190847/33190848, or contact technical support online.
Email:Chinasales@embest-tech.comFor standard product orders, please contact our sales. Contact method is at the bottom of the page.
Matching Baseplate SBC8600B Peripheral Resources
---
Core Mini8600B+Backplane SBC8600B (96mm x 96m)
Data transfer interface:
Two 10/100/1000Mbps Ethernet interfaces (only one network port is supported in WinCE 7 system at this time)

A CAN 2.0 interface and an RS485 interface (8 Pin Phoenix Terminal Connector)

A USB 2.0 High-Speed OTG Portswith Integrated PHY (480Mbps, Mini USB interface)

Two USB 2.0 High-Speed HOST Portswith Integrated PHY (480Mbps, USB-A interface)

A TF card interface (SD/MMC compatible, 3.3V logic)

Serial port:

UART0, RS232 level, DB9 debug serial port

UART2, RS232 Level, DB9 Common Serial Port

UART3, 3.3V TTL level, needle alignment

UART4, TTL level, needle alignment

UART5, TTL level, needle alignment
Audio/video interface:
LCD/touch screen interface (24-bit data RGB full color output, 50-pin FPC connector)

An audio input interface (3.5mm audio interface)

A dual channel audio output interface (3.5mm audio interface)
Transport interface:
Two custom keys (MENU, BACK)

A reset key
 LED:
A power indicator

Two user defined lights
Electrical characteristics:
Working temperature: 0 ° C ~ 70 ° C

Ambient temperature: 20% – 90%, non condensing

Mechanical dimension: 96mm x 96m

Input voltage: 12V
Software features:
---
operating system

explain

remarks

Linux

BIOS

x-loader

NAND

MMC/SD

FAT

u-boot

NAND

MMC/SD

FAT

Net burning image is supported

Kernel

Linux-3.2.0

File system supporting ROM / cram / ext2 / ext3 / fat / NFS / JFFS2 / UBIFS format

Driver support

CAN, RS485,TFT LCD,Touch screen,NAND Flash,Debug serial port,Ethernet,USB OTG,TF card,Key,USB Device, USB host,LED,RTC,Audio input/output

Android 2.3

Kernel

Linux-3.2.0

Gingerbread

Driver support

TFT LCD,Touch screen,NAND Flash,Debug serial port,Ethernet,USB OTG,TF card,Key,USB Device, USB host,LED,RTC,Audio input/output

WinCE 7

BIOS

x-loader

Support NAND startup

Support TF startup

e-boot

Support NAND startup

Support TF startup

OAL

OAL module

Boot parameter

KILT(EMAC)

Serial debug

REBOOT

Watchdog

RTC

Kernel profiler

System timer

Interrupt controller

MMU

驱动支持

Debug serial port, RTC, Ethernet, NAND Flash, TFT LCD, Touch screen, TF card, USB Device,Audio input/output, RS485, NLED, Keypad, PRU,USB host,USB Device

PowerVR (2D/3D) DDK & SDK